Rotary Airlock Valve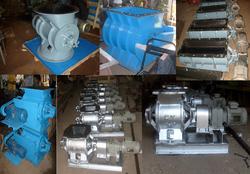 We offer wide variety of Rotary Airlock Valve.
Rotary Airlock Valve (RAV) is the equipment which is fitted below the Bag Filter, Cyclone, Multicyclone etc. The main function of the RAV is to lock the air and discharge the dust / powder. In the Bag Filter system there is negative pressure in the Bag Filter. So at the powder discharge point if there is any air leakage the powder will not fall down. So to restrict the leakage we provide the Rotary Airlock Valve. RAV consists of a stator & rotor. The radial & axial clearance is between 0.1 to 0.3 mm. The rotor has vanes (6 or 8) welded on the shaft. The rotor is mounted on the bearings at both the ends of the stator. A Geared Motor is provided to rotate the rotor. Since the clearance between rotor & stator is so low. Because of this air leak is very minimum and it delivers only powder.
AVAILABLE IN TYPES
· DROP THROUGH ROTARY AIRLOCK
· SIDE ENTRY ROTARY AIRLOCK
· BLOW THROUGH ROTARY AIRLOCK